Regardless Of Consumer Concerns 84 Percent Think Home Ownership Is A Good Investment
In the latest National Housing Pulse Survey for 2017 the concerns about housing affordability show a clear demographic divide according to the National Association of Realtors (NAR). It shows that more than 50% of unmarried, non-white Americans view affordability as a big problem, while only 40% of married white Americans feel the same.
The statistics on the survey measure the concerns about housing issues in the 25 largest metropolitan areas. This survey found that 84% now believe that a home purchase would be a good financial decision. Although 6 out of 10 respondents are concerned about affordability and the fact that prices continue to rise it is still the highest percentage since 2007.
In the top 25 densest markets the study shows a similar result as more than half of the respondents see affordable housing as a big problem. The survey shows an 11% hike since the National Housing Pulse Survey done in 2015.
Despite the affordability concern, the the results are clear that the majority still believe in home ownership and Aspire to own a home in the future. The top three reasons consumers stated for owning their own home are building equity, wanting a stable safe environment, and the freedom to choose their own neighborhood.
Results showed 8 out of 10 people surveyed said the most important reason to own a home is, the money being spent goes toward their own equity and not paying a property owners mortgage. The next most important reason for home ownership is paying the home off before you retire, followed by the opportunity to build long term wealth.
It also shows that 4 of 10 respondents believed that a 15% or more down payment is necessary, as 70% of people surveyed felt a down payment should be 10% or less. The misperception of down payments came from older adults surveyed in bigger cities. This apparent confusion of down payment requirements most likely adds to concerns of non-owners when it come to affordability. The NAR profile of home buyers and sellers shows that the median down payment for first time home buyers is around 6% for the last three years. As a repeat home buyer the average down payment comes in at around 14% in the same time period.
With 84% of consumers stating that home ownership is a good investment, it makes you wonder if not knowing the correct terms, conditions, and requirements to purchase a home has kept non-owners from buying in the past and present.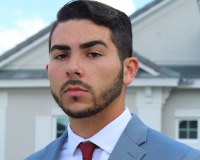 Author:
Dante Escobar
Phone:
863-259-9307
Dated:
July 31st 2017
Views:
367
About Dante: ...