Florida Expects A Record Breaking Increase In 2016 Visitors
The State of Florida alone has seen an increase in tourism for 5 consecutive years. Last years numbers were astronomical at 105 million visitors. For 2016 we are aiming higher for what would be new record numbers at 115 million which would be 10 million more than last years record numbers. We saw an increase in figures from 2014 to 2015 by 6% and it is showing no signs of slowing down.
Statistics show that 89.8 million visitors were domestic visitors in the U.S. alone, while 15.2 million were out of country visitors coming from over seas and Canada. Much of this tourism is connected to the Central Florida area for all it's theme parks, from Disney to Universal, Sea World, Busch Gardens, and Lego Land the numbers should definitely continue to climb.
This is great news for those in the Real Estate business in the area because the increase in visitors come the rise in rental return. Investors will see this as a great opportunity for a return on their investment with short term rental properties . Also with this many visitors in the area it is a great opportunity for Real Estate Professionals to connect with people from all over the world from day to day, which detrimental to expanding their business.
I'd like to finish by stating that with the rise of tourism comes the expansion of jobs and economic growth which is fantastic for the everyday home owner in Florida and for those who would love a home away from home in the sunshine state.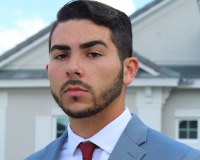 Author:
Dante Escobar
Phone:
863-259-9307
Dated:
March 29th 2016
Views:
374
About Dante: ...