Bitcoin And Other Cryptocurrency Prices Plunge
Bitcoin and other cryptocurrency investments that millionaires were all-in on back in December are now becoming a headache for those same investors.
The reason for these investors misery is said to be periodic sell-offs. Investors in bitcoin and other digital currencies have seen this happen in as little as 24 hours, in which $50 billion of value could be wiped away just like that.
Some authorities around the world would like to try and tame what they see as a Wild-West type market. In which regulators have cracked down on this area of the investment in recent months.
The two most recent events that have hurt these digital currency investments are when google decided to ban cryptocurrency related advertising, and the massive selling by a trustee of the collapsed Mt. Gox bitcoin exchange.
"Unfortunately, the future of crypto is still quite foggy," Arnaud Masset, a market analyst at Swissquote Bank, told USA TODAY. "The honeymoon is over, and it is time to face reality."
The 10 largest cryptocurrencies in relation to market value, have suffered price declines as recent as two weeks ago, these price drops range from 4 % to 15%, according to coinmarketcap.com.
This decline has dropped market value of the world's 1,565 digital currencies by $50 billion as of Thursday March 15th. The total value of the market was $372.9 billion Wednesday the 15th, down to $322.9 billion Thursday the 16th and less than half the total value at it's peak in mid-December 2017.
Bitcoin the highest valued and most well known cryptocurrency fell 6.5% to $8,118.80 a coin in that 24 hour window between the 15th and 16th. That is almost a 60% drop below its peak of roughly $19,500 in mid-December 2017.
Bitcoin's saw a 1,400% gain last year which left investers looking for a big gain very excited to jump into this volatile investment.
Critics warned that the huge rally in 2017 was a sign of a speculative bubble that would and will eventually burst. On the other side, Bitcoin bulls say the wild price swings are normal and that Bitcoin and other cryptocurrencies will rise again.
As of today March 31st at roughly 11a.m., the Bitcoin price has dropped again to $7,033 per coin.
Source: floridarealtor.org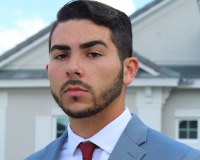 Author:
Dante Escobar
Phone:
863-259-9307
Dated:
March 31st 2018
Views:
204
About Dante: ...